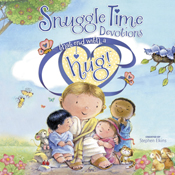 It's hard to believe that my little Junior is going to be 3 in a couple of months. Now that he's almost a preschooler (wow!), I've been looking for some age appropriate devotions to do with him. Stephen Elkins, (the author of Heaven: What's It Like? How Do We Get There, which I reviewed here) has written a new young children's devotional book entitled Snuggle Time Devotions That End With a Hug. Since I really liked Elkin's previous book, I was excited to pick this one up as well.
I think I liked this book even better than Heaven. The book includes 52 devotions. Each lesson focuses on one Bible story and consists of a Bible verse to memorize, a rhyming version of the story for little ones, a game or activity that lives out the lesson, a life application, and a GREAT BIG HUG!
The "Snuggle Up" Stories were very cute. They were rhyming to keep the kid's interest, and the "Snuggle Time Takeaway" offered a couple sentences about the lesson. I also really liked the "Bible Time Activity". The activities included things like looking up the meaning of your name, playing "Simon Peter Says", making a craft flower garden, and singing "Jesus Loves Me" using hand motions.
Even though I got this book for Junior, 6 year old Stinker was enthralled with the stories and especially loved the Hug Time. The illustrations are very cute and whimsical. Each page colorful, and the illustrations of the cute characters and little animals make me smile. It is a very pleasant book to read, and my children seem to love it. I highly recommend this book, which seems to be geared towards kids aged 3-6, to any parent or grandparent looking to get their young children into the habit of devotional time.
*I received a free copy of this book from Tyndale Publishers in exchange for my honest review. All opinions are my own and have not been influenced in any way.